Danielle Eskinazi, CCDA
Auditions are Challenging.
Auditions are challenging even to the most seasoned of Actors with so much at stake.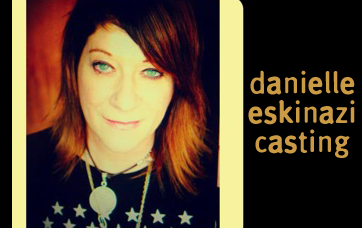 Every audition is an opportunity
to present oneself and one's work
to call one's talent forward and make a positive impression with one's preparation and ability
to demonstrate one's preparation and ability
to demonstrate one's understanding of the character and the character's role in the story that is being cast in front of an audience:

the Casting Director and associates
the Producers and Director.
Practical wisdom and encouragement at your fingertips
Wouldn't it be great at a moment like this, just before walking into the room, to have some professional help in your pocket, at your finger tips?
Bio
Danielle Eskinazi is an award-winning casting director with an eye for talent and a sixth sense when it comes to spotting substance beneath the surface. With over two decades casting films, television, theater, and commercials, Danielle has cast such known talent as David Bowie, Rosanna Arquette, and Woody Harrelson, while also launching the careers of now-successful actors including Hank Azaria and Milla Jovovich. She is highly respected in the business for her creativity, integrity, and ability to draw out audition-nailing performances.
After several years of casting films, Danielle dove into the fast paced world of commercials. Today Danielle Eskinazi Casting has cast over 3,000 national and regional spots and is known for finding edgy, interesting, and talented actors to suit her directors¹ and clients' needs.
Danielle has been nominated for the Talent Managers Association prestigious Seymour Heller Award for Best Commercial Casting Director of 2009, and was a runner up twice for Favorite Commercial Casting Director in Back Stage West.
She has been sharing her insights by teaching workshops at such venues as the Stella Adler Theater, and speaking on panels including one at the SAG Foundation, which was aired Internationally. Danielle is also affiliated with the AFI Women's Program, helping first-time directors cast their shorts.
Danielle's latest venture is ActVice, an online service she created to give immediate and invaluable feedback on audition rehearsals, monologues, scenes, reels, and/or headshots.
---
A professional Casting Director in your pocket...
...could come in handy.
It could make a huge difference.
And with repetition, it could give an Actor quite the advantage when they most need it.
Break a leg!